Jul 26-29
The Jefferson Church of Christ invites you to a --
GOSPEL MEETING
Sunday, July 26 - Wednesday, July 29, 2009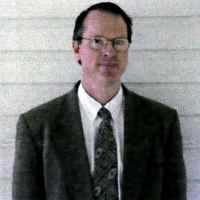 David Wright, from New Albany, Indiana, will be the speaker for the meeting. David has a B.A. in Bible from Faulkner University, and a M. A. in New Testament from Freed—Hardeman University.
David has served congregations in Mississippi, Alabama, Tennessee and Indiana.
David and his wife, Carolyn, have two grown children. Their daughter Hannah is married to Casey Haynes, the youth minister at the Palm Beach Lakes congregation in West Palm Beach, Florida. Josh, their son, will be a junior Spanish major this fall at Harding University.
Mr. Wright is the author of "Real Women, Real Problems," and is currently writing a second book, "Real Men, Real Battles."
Times and Topics
Sunday. 9:00 a.m. Bible Class, David will be teaching the men in the auditorium. His topic, for the class, is 'The Builder of All Things.' At the same time, his sister, Grace Wheeler of Orlando, Florida, will be teaching the ladies in the basement.
Sundays 9:50 a.m. Worship Service, Mr. Wright has chosen for his topic, 'I Have Hope.'
There will be a potluck following the worship service.
Evening sessions. 7:00 p.m.. Monday July 27th through Wednesday, July 29th
Monday, July 27th
'A Strong, Weak Man'
Tuesday, July 28th

'

Myths About Heaven'
Wednesday, July 29th
'Good People, Bad Things'
The congregation invites any and all to come and listen to David Wright, as he preaches God's Word.
The Jefferson Church of Christ is located at 1210 So. Elm, Highway 4 South. It is directly west of the Jefferson-Scranton High School. The last church building going south out of Jefferson. For more information call (515) 386-3199, or (515) 386-3060.
Oct 12-15
First Annual

"Holding the Traditions Lectureship"

October 12-15, 2009

Heartland church of Christ
3430 Dodge St, Suite 1, Dubuque, Iowa 52003
563-581-4636 - the_bible_says@ dbqheartlandcoc.org

(More Information at www.dbqheartlandcoc.org )

"Being of the Same Mind"
Monday, Oct. 12
8:30am – Unity & John 17:3, 20-21 – Shawn Paden (Royse City, Texas)
9:30am – Same mind concerning the Lord's Supper – Carl McCann (Fruitvale, Texas)
10:30am – Same mind concerning Women's Roles (interpreters, deaconesses, committees) – Mike Gors (Ft. Wayne, Indiana)
11:30am – Same mind concerning M/D/R (Bales, Evans, vs. Scripture) - Mark Reynolds (Muncie, Indiana)
12:30-2:15 – Lunch Break
2:30pm – Same Mind concerning Our Stand for Truth - Mike Demory (Dubuque, Iowa)
3:30pm - Same mind concerning Innovations/Singing of Hymns – Rick Lawson (Nashville, Arkansas)
4:30pm - Same mind concerning Discipline – Don Walker (Austin, Texas)
5:30pm - Same mind concerning Baptism – Cody Westbrook (Austin, Texas)
Tuesday, Oct. 13
8:30am – Being of the Same Mind – Shawn Paden (Royse City, Texas)
9:30am - Same mind concerning Faith – Don Boyd (Blue Springs, Missouri)
10:30am - Same mind concerning One church – Don Walker (Austin, Texas)
11:30am - Same mind concerning Instrumental Music – David McCain (Mt. Pleasant, Texas)
12:30-2:15 – Lunch Break
2:30pm - Same mind concerning Hiring Preachers – Brian Sherrell (LaCrosse, Wisconsin)
3:30pm - Same mind concerning Fellowship – Don Walker (Austin, Texas)
4:30pm - Same mind concerning Life Issues - Mike Demory (Dubuque, Iowa)
5:30pm - Same mind concerning Evangelism – Rick Lawson (Nashville, Arkansas)
Wednesday, Oct. 14
8:30am – Same Mind concerning who are Brethren – Shawn Paden (Royse City, Texas)
9:30am - Same mind concerning Alcohol – Scott Nedland (Rice Lake, Wisconsin)
10:30am - Same mind concerning Desegregation – Richard Melson (Dayton, Ohio)
11:30am - Same mind concerning Modesty – David Baker (Emory, Texas)
12:30-2:15 – Lunch Break
2:30pm - Same mind concerning Dancing – Cody Westbrook (Austin, Texas)
3:30pm - Same mind concerning Firing Preachers – Mike Demory (Dubuque, Iowa)
4:30pm - Same mind concerning Qualifications of Elders – David McCain (Mt. Pleasant, Texas)
5:30pm - Same mind concerning Qualifications of Deacons – Brian Sherrell (LaCrosse, Wisconsin)
Thursday, Oct. 15
8:30am – Same Mind as Watchmen – Shawn Paden (Royse City, Texas)
9:30am - Same mind concerning Creation – Brian Sherrell (LaCrosse, Wisconsin)
10:30am - Same mind concerning Christ's Reign – A.J. Cox (Cloverdale, Indiana)
11:30am - 1 Corinthians 1:10 Speaking the Same Thing – John-Mark Wilson (Brookland, AR)
12:30-2:15 – Lunch Break
2:30pm - Same mind concerning Repentance – Cody Westbrook (Austin, Texas)
3:30pm - Same mind concerning Bible Authority – Carl McCann (Fruitvale, Texas)
4:30pm - Same mind concerning Reaffirming Elders & Deacons – Jeremy Morris (Kansas City, MO)
5:30pm – Walking by the Same Rule - Richard Melson (Dayton, Ohio)